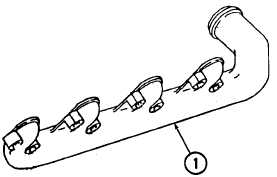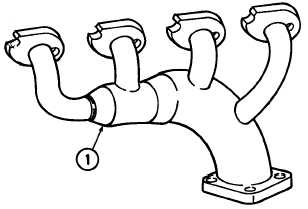 TM 9-2815-237-34
Change 1
2-83
2-29.   EXHAUST MANIFOLD REPAIR
This task covers:
a.
Cleaning
b.
Inspection
Equipment Condition
Engine disassembled into subassemblies
(para. 2-15).
a.  Cleaning
b.  Inspection
NOTE
For general inspection instructions, refer to para. 2-10.
Inspect exhaust manifold (1) for damage. Replace if damaged.
Clean exhaust manifolds (1) in accordance with para. 2-9.
INITIAL SETUP:
Tools
General mechanic's tool kit:
automotive (Appendix E, Item 1)
Manual References
TM 9-2815-237-34P
NOTE
There is no repair to exhaust manifold and it must be replaced
if damaged.
LEFT TURBO EXHAUST MANIFOLD SHOWN
LEFT EXHAUST MANIFOLD SHOWN