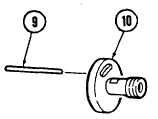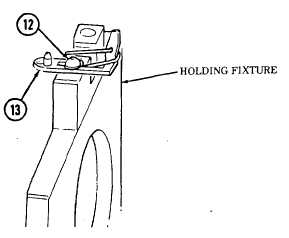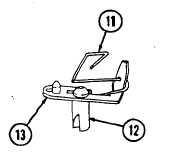 2-103
TM 9-2815-237-34
2-32.  FUEL  INJECTION  PUMP  REPAIR  (Cont'd)
30.  Inspect  regulatar  (10)  for  damage.  Replace  if  damaged.
NOTE
When removing roll pin, note which hole from where pin is
removed,  It  is  marked  "C"  or  "CC".
31. Inspect roll pin (9) in regulator (10) for damage. Replace if damaged.
32.  Inspect  arm  spring  (11)  for  damage.  Replace  if  damaged.
CAUTION
Metering valves are available in standard and oversize. If
replacing metering valve, check for number "SB-336" on top of
hydraulic head. If number is present, oversize metering valve
must be used or injection pump may malfunction.
33. Inspect metering valve (12) and arm (13) for damage. If damaged, perform  steps 34 and 35. If not,
go to step 36.
34. Place valve (12) in holding fixture hole and remove arm (13) from valve (12).
35. Install arm (13) on valve (12).