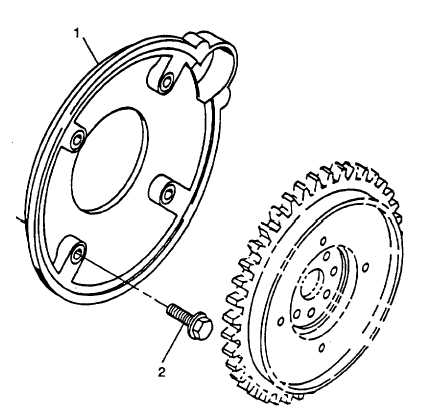 ARMY TM 9-2815-252-24
AIR FORCE TO 38G1-92-2
FIGURE 3-38.  Flywheel Housing
3-32.
MAIN
BEARING
HOUSING
.
3-32.1.   

Removal

.
a.
Drain engine lubrication system, refer to end item maintenance manual.
b.
Remove flywheel housing, refer to paragraph 3-31.1.
c.
Remove crankcase door, refer to paragraph 3-20.2.1.
CAUTION
Failure to remove a center bearing tube may result In distorting It making it difficult to remove at
a later stage.
d.
Use an intake manifold bolt to remove center bearing tube, refer to FIGURE 3-39.  Leave bolt in tube until it is
installed to ensure tube is installed correct way.
e.
Remove five capscrews (2, FIGURE 3-40) securing main bearing housing (3).
3-72