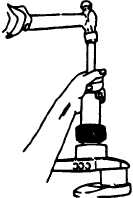 ARMY TM 9-2815-254-24
AIR FORCE TO 38G1-94-2
(6) Remove bearing cap.
(7)   Compare  width  of  bearing  gage  attached  to  either  crankshaft  or  bearing  against  scale  printed  on  bearing
gage   container.
(8) Standard clearance is 0.0007 to 0.0025 in. (0.018 to 0.065 mm), with a limit of 0.0047 in. (0.12 mm).
(9)   If measured clearance exceeds limit, perform clearance check in accordance with step g.
3-28.4.  

Assembly

.
N O T E
Crankshaft gear timing mark 'X-X must face out.
a.
Install  key  (17,  FlGURE  3-77)  on  crankshaft  and  using  gear  installer  (320908)  install  gear  (16)  on  crankshaft,
refer to FlGURE 3-92.
b.
Install deflector (15, FlGURE 3-77) on crankshaft.
c.
Clamp connecting rod in a soft-jawed vice.
FIGURE  3-92.  Crankshaft  Gear  Installation
3-141