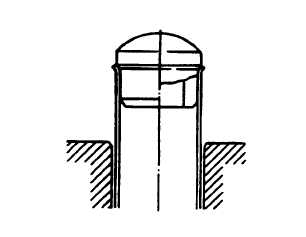 ARMY TM 9-2815-254-24
AIR FORCE TO 38G1-94-2
(3)   Insert cylinder liner into cylinder block from top, refer to FIGURE 3-115.
FIGURE  3-115.  Cylinder  Liner  Installation
(4)   Set cylinder liner installer (320903) on top of cylinder liner, refer to FIGURE 3-116.
(5)   Position cylinder block so installer center is directly beneath arbor press shaft center.
N O T E
Check that cylinder liner is set perpendicular to arbor press and that
there is no wobble.
(6)   Using arbor press, apply a seating force of 1102.5 lbs (500 kg) to cylinder liner.
(7) Apply a force of 5512.5 Ibs (2500 kg) to fully seated cylinder liner.
(8)   Measure cylinder liner projection, refer to paragraph 3-32.2, step c.
3-170