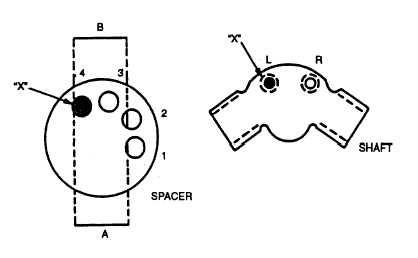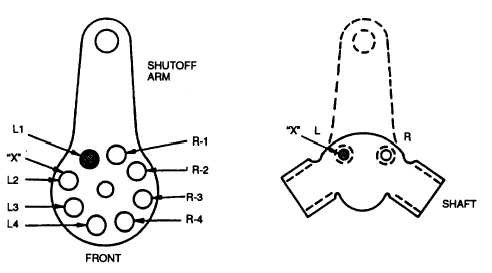 ARMY TM 9-2815-255-24
AIR FORCE TO 38G1-95-2
MARINE CORPS TM 2815-24/4
FIGURE 3-82.  Alignment of Spacer
bf.
If necessary, assemble shutoff lever shaft assembly as follows:
(1)
Install a nut (29) on each screw (28) and install screws (28) in shaft assembly (30).
NOTE
FIGURE 3-83 indicates alignment hole for adjustment shutoff arm (27) for this application.
(2)
Position  adjustment  shutoff  arm  (27)  on  shaft  assembly  (30)  and  secure  with  two  washers  (25  and  26),
screw (23), and adjustment shutoff screw (24)
FIGURE 3-83.  Alignment of Shutoff Arm
bg.
Install two new washers (22) and rubber seal rings (21) using suitable tool on throttle shaft (18) and shutoff lever
shaft assembly (30).  Apply a light film of general purpose grease (630AA) to each seal.
3-110