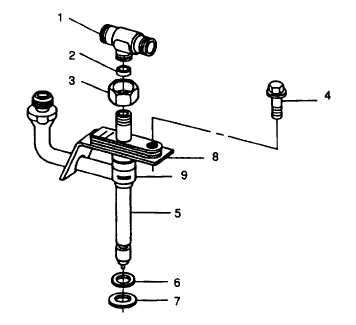 ARMY TM 9-2815-255-24
AIR FORCE TO 38G1-95-2
MARINE CORPS TM 2815-24/4
NOTE
When  all  fuel  injection  nozzles  have  to  be  removed,  disconnect  leak-off  line  assembly  at  fuel
tank,  at  injection  pump,  and  at  each  nozzle  tee-fitting.    Lift  off  complete  leak-off  line  as  an
assembly.
b.
Disconnect fuel injection line from nozzle.  Cap openings.
c.
Remove bolt (4) securing nozzle (5) to cylinder head.
d.
Pull injection nozzle out of cylinder head with a suitable prying tool placed between bracket (8) and spacer (9).
e.
Clean nozzle bore with nozzle bore cleaning tool.  Blow debris from bore with compressed air and plug bore to
prevent entry of foreign material.
3-29.2.  

Cleaning

.
Warning
Cleaning solvent is flammable and toxic to eyes, skin, and respiratory tract.  Skin/eye protection
required.  Avoid repeated/prolonged contact.  Good general ventilation Is normally adequate.
a.
Remove carbon stop seal (6, FIGURE 3-92) and upper sealing washer (7), using a needlenose pliers.   Discard
seal and washer.
FIGURE 3-92.  Fuel Injection Nozzle
b.
Suspend  nozzles  (so  carbon  stop  seal  groove  is  just  covered)  in  dry  cleaning  solvent  (P-D-680)  for  a  few
minutes.
3-124