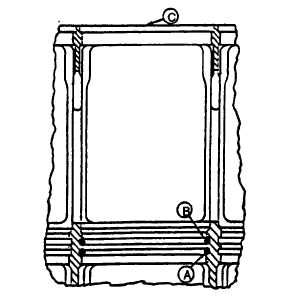 ARMY TM 9-2815-255-24
AIR FORCE TO 38G1-95-2
MARINE CORPS TM 2815-24/4
CAUTION
Do not stamp top of high ring piston.  Piston can be damaged.
NOTE
New rings are furnished with the correct end gap; therefore, fitting to the liner is not necessary.
3-50.2.  

Cylinder

Liners

.
CAUTION
Do  not  use  oil  or  hand  cleaner  soap  on  cylinder  liner  packings  (A,  FIGURE  3-146).  Petroleum
products  will  cause  the  red  (or  white)  packing  to  swell,  which  may  result  In  packing  damage
during liner Installation.
a.
Pour liner lubricant (AR54749)  into a suitable container.  Dip packings (A and B, FIGURE3-146) in lubricant.
b.
Install black packing (A) in lower packing groove in cylinder block.
FIGURE 3-146.  Location of Cylinder Liner Packings
c.
Install red (or white) packing (B) in upper packing groove in cylinder block.
d.
Turn  cylinder  liner  upside-down.    Dip  the  square  packing  (A,  FIGURE  3-147)  in  liner  lubricant  and  install  over
outside of liner.
3-206