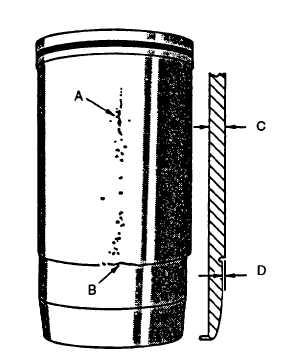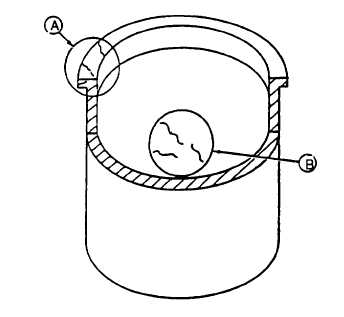 ARMY TM 9-2815-256-24
AIR FORCE TO 38G1-96-2
MARINE CORPS TM 2815-2415
FIGURE 3-150.  Inspecting Cylinder Liner Pitting
s.
Carefully examine cylinder liner for signs of fatigue, such as fine cracks in flange area (A, FIGURE 3-151) and
cracks in the ring travel area (B).  If any defects are found, replace the piston and liner.  If no defects are found,
proceed to next step.  If pistons and liners have passed all previous checks, proceed to check both for proper
specifications, listed in steps t and u.
FIGURE 3-151.  Inspecting Cylinder Liner for Cracks
3-199