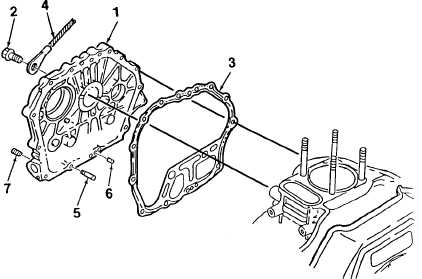 ARMY TM 9-2815-257-24
AIR FORCE TO 38G1-128-2
MARINE CORPS TM 10155A/2815-24/3
4-9
4-8.  CYLINDER BLOCK MAINTENANCE
This task covers removal, cleaning, inspection, and installation of the crankcase cover.
INITIAL SETUP
Tools:
Equipment Condition:
Tool Kit, Master Mechanic (Item 3, App. B, Sect. III)    
Engine oil drained (Para. 3-5)
Parts/Materials:
Oil, Lubricating (Item 1-5, App. E)
Solvent, Dry Cleaning (Item 7, App. E)
Rag, Cleaning (Item 8, App. E)
Grease, Automotive (Item 9, App. E)
A.    REMOVAL.
CAUTION
When removing crankcase cover, be careful not to damage oil seal.
1.
Note attachment location of engine lifting cable (4, Figure 4-3).  Release crankcase cover (1) and lifting
cable from cylinder block by removing fifteen screws (2).  Carefully pry crankcase cover from cylinder
block.
2.
Remove cover gasket (3).  Discard gasket if damaged or deformed.  Remove pipe (5), two guide pins (6),
and threaded plug (7) only if replacement is required.
Figure 4-3.  Crankcase Cover Removal