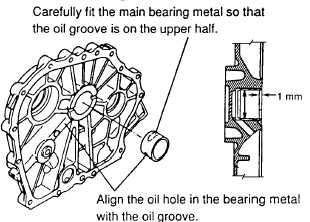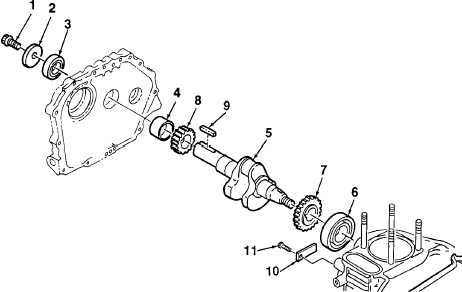 ARMY TM 9-2815-257-24
AIR FORCE TO 38G1-128-2
MARINE CORPS TM 10155A/2815-24/3
5-11
5-7.  CRANKSHAFT ASSEMBLY MAINTENANCE  -  cont.
D.    INSTALLATION.
1.
If installing a new bearing (4, Figure 5-5), mount
bearing so that oil groove in bearing faces up (see
Figure  5-4).    Press  fit  bearing  so  that  sinkage
between  face  of  bearing  and  face  of  crankcase
cover is 0.0394 inch (1.0 mm).
2.
Install  a  new  oil  seal  (3,  Figure  5-5).    Apply
grease to oil seal and press into crankcase cover.  
Install bolt (1) and washer (2).
3.
Apply grease to lips of oil seal (3).  Apply a light
coat of oil to crankshaft (5) journal and pin.
4.
Install   key   (9)   into   crankshaft   (5).      Carefully
insert  assembled  crankshaft  into  cylinder  block.  
Make sure that crankshaft is inserted as far as it
will go.
Figure 5-4.  Bearing Installation
5.
Install bearing holder (10) using screw (11).
Figure 5-5.  Crankshaft Assembly Installation