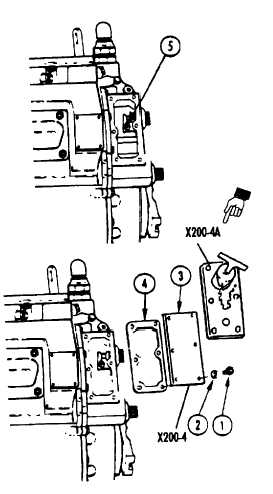 TM 9-2520-272-34&P
5-3.  BRAKE ADJUSTMENT (SHEET 5 OF 5)
NOTE
•    Screwdriver  turned  clockwise  in
slotted  tip  of  adjusting  link  loosens
brake.
•·
Screwdriver
turned
counterclockwise   in   slotted   tip   of
adjusting link tightens brake.
3.
Alternately  turn  adjusting  link  (5)  1/6  turn  (60°)
with screwdriver and apply torque  wrench  at  40
lb-ft  (54  N•m)  on  shaft  until  indicator  lines  up
opposite APPLY mark.
4    Install cover (3) with new gasket (4).
5    Using  1/2  inch  socket,  install  six  bolts  (1)  and
washers (2) retaining cover (3).
NOTE
X200-4A   Oil   filler   cap   chain   is   bolted
under  the  top,  outside  bolt  and  washer
of 6 bolts and washers which retain the
plate to the end cover.
6.    Using torque wrench, tighten six bolts (1) to 13-
15 lb ft (17-20 N•m).
End of Task 3
5-8  Change 2
Para.  5-3, Task 3