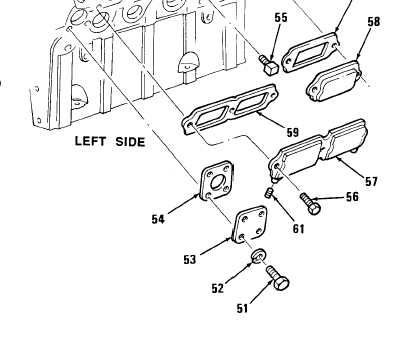 (18)
(19)
(19.1)
(20)
(21)
(22)
TM9-2815-202-34
If necessary, install three solid plugs (45) flush with top surface of cylinder banks.
Install two pipe plugs (46) in top of block.
For model 7083-7391: If necessary, coat cup plug (46.1) with gasket cement and install in top
front of cylinder block at a depth of approximately 1.0 inch.
Using plug installer, install two washers (48) and two threaded plugs (47) to floor of airbox.
Torque  plugs  to  230-270  Ib-ft  (312-366  N-m).
Install six pipe plugs (49) to a minimum depth of 0.24 inch below top surface of cylinder
banks.
If necessary, install fourteen pipe plugs (50) in bottom of cylinder head bolt holes to a
minimum depth of 2.04 inches.
(23)
(24)
(25)
Install gasket (54), cover plate (53),
four Iockwashers (52), and four bolts
(51 ) to left side of engine. Torque
bolts to 30-35 Ib-ft (41-47 N-m).
Install airbox drain tube elbow (55) to
each side of block.
Install gasket (59), two gaskets (60),
cover (57), two covers (58), and
seven bolts (56) to each side of
cylinder block. Torque bolts to 8-12
Ib-ft  (1  1-16  N-m).  If  removed,  install
two plugs (61 ) in each cover (57).
C h a n g e     1 4-173