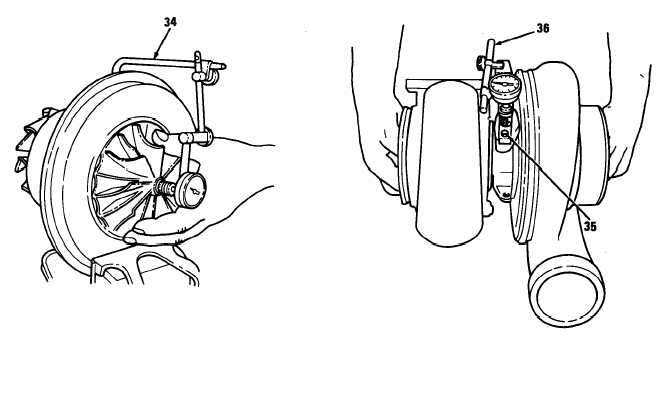 TM 9-2815-202-34
4-37.  TURBOCHARGER  REPAIR  (Cont)
CAUTION
Tighten  compressor  wheel
turbine  wheel  shaft.
(18) Tighten nut an additional
nut with a double universal
110 degrees of rotation.
socket  to  prevent  bending
(19) Check bearing axial end play as follows:
(a)
(b)
(c)
Clamp  center  housing  assembly  in  bench  vise  equipped  with  soft  jaws.
Fasten dial indicator and magnetic base (34) to center housing with indicator tip resting
on end of rotating shaft on compressor side.
Move shaft axially back and forth by hand. Total indicator reading should be between
0.004 and 0.009 inch. Repair or replace shaft assembly if readings do not fall within
limits.
(20) Check shaft radial movement as follows:
(a) Bolt dial indicator adaptor (35) to oil drain tube mounting pad.
(b) Mount dial indicator (36) on dial indicator adaptor (35).
(c) Place dial indicator tip against indicator adaptor rod.
4-182