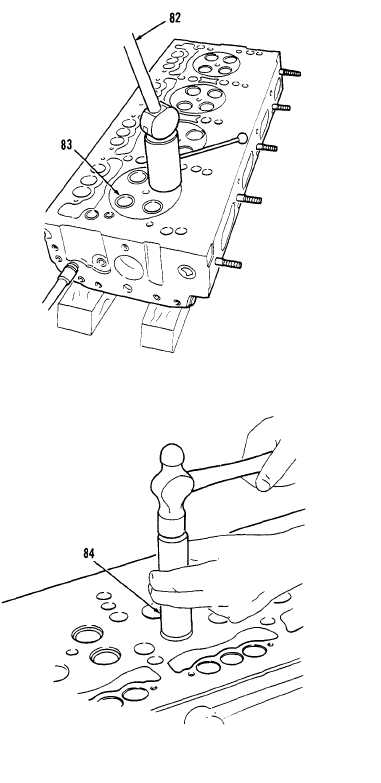 TM9-2815-202-34
(5) Valve inserts
Inspect valve inserts for excessive wear, pitting, cracking, or improper seat angle. Replace
inserts  as  follows:
(a)
(b)
(c)
Place cylinder head on wood blocks
with bottom side up.
Using valve seat insert remover (82),
remove  valve  seat  insert  (83).
Clean valve seat insert counterbore in
cylinder head and inspect for
concentricity,  flatness,  and  cracks.
NOTE
Insert  counterbore  has  a  diameter  of
1.2600 to 1.2610 inches and a depth
of  0.3380  to  0.3520  inch.
Counterbores must be concentric with
valve  guides  within  0.003  inch  total
indicator  reading.
(d)    Immerse cylinder head in water heated
to 180oF-200oF (82°C-93oC) for 30
minutes  or  cool  insert  with  liquid
nitrogen.
NOTE
Install  insert  in  cylinder  head  while
head is still hot and insert is at room
temperature or when insert is chilled
and head is at room temperature.
(e) Place cylinder head on a bench with
bottom  side up. Place insert in
(f)
counterbore with valve seat side facing
up.
Using  valve  seat  insert  installer  (84),
drive insert in place until it seats solidly
in cylinder head.
C  h  a  n  g  e      15-47