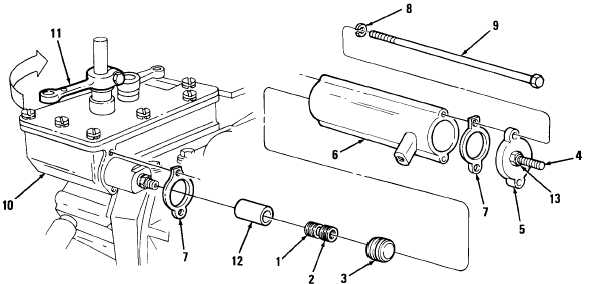 TM9-2815-202-34
.
*
1.  Adjusting  LOW  MAXIMUM  NO-LOAD  SPEED
(1) Loosen nut (13) and hold  speed control lever (11 ) in maximum  speed  position.
NOTE
Turn adjusting screw (4) in to increase or out to decrease the engine speed.
(2)

Adjust screw  (4)  to  obtain  low  maximum  speed  1350-1375  RPM.
(3) Hold screw and secure nut to  cover  (5).
m.  Recheck  both  high  maximum  and  low  maximum  engine  speeds.  Make  adjustments  if  necessary
as outlined in steps b

thru

m.
l
END   OF   TASK
FOLLOW-ON  MAINTENANCE
l
Para

  

Description
8-13   Adjust   buffer   screw
8 - 29