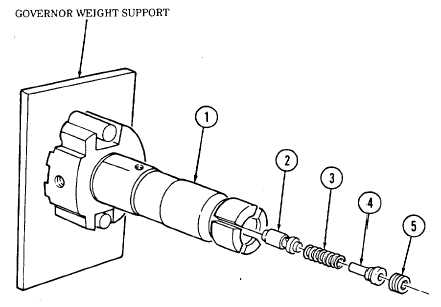 TM 9-2815-237-34
2-32. FUEL INJECTION PUMP REPAIR (Cont'd)
l
l
CAUTION
Do  not  handle  precision  ground  surface  of  rotor  to  avoid
contamination.
Handle all parts carefully with clean hands wet with calibrating
fluid to avoid contamination.
6. Mount governor weight support in vise and rinse rotor (1) in calibrating fluid and install in support.
NOTE
.

Delivery valves are available in standard and oversize. If
replacing  delivery  valve,  check  for  marking  "OS"  on  side  of  rotor.
If  "OS"  marking  is  present,  oversize  delivery  valve  must  be  used.
l

Oversize delivery valves have a black marking at the base of
delivery   valve.
7. Install delivery valve (2) in rotor (1).
8. Install valve spring (3) and valve stop (4) in rotor (1).
CAUTION
Excessive tightening of stop plug will cause seizure of hydraulic
head  and  rotor.
9. Using 5/32-in. hex head driver, install stop plug (5) in rotor (1) and tighten to 85-90 lb-in. (10 N•m).
2-108