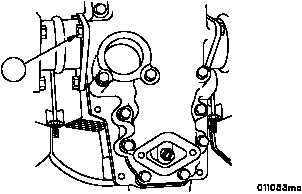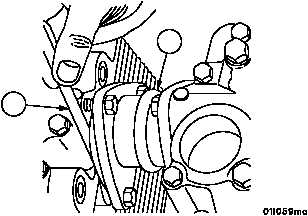 TM 9--2815--247--34
0026 00--10
ROCKER ARM COVER ASSEMBLY REPLACEMENT -- CONTINUED
0026 00
Installation -- Continued
CAUTION
Do not damage sealing surfaces on rocker arm covers at
inter--cylinder sleeves, preformed packing, or gaskets, as
it will cause oil leaks requiring parts replacement.
NOTE
Steps 9, 10, and 11 apply to both sides of rocker arm cov-
ers on cylinders 2L, 3L, 4L, 5L, 2R, 3R, 4R, and 5R.
Steps 9 and 10 apply to only one side of cylinders 1L, 6L,
1R, and 6R.
9.   Loosely install screw (6) through camshaft flange.
Figure 10
6
10. Slide a piece of shim stock (9) between lip of preformed inter--cylinder sleeve (10) and mating faces of rocker arm
cover assembly and cylinder to remove any possible creases.
Figure 10
9
10