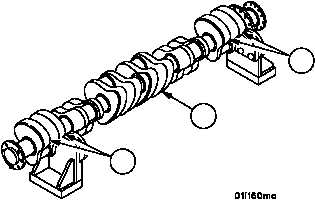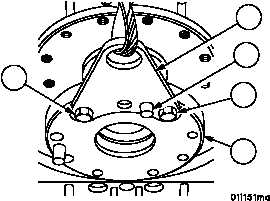 TM 9--2815--247--34
0064 00--13
ENGINE CRANKSHAFT REPAIR -- CONTINUED
0064 00
Installation -- Continued
CAUTION
The crankshaft counterweights for connecting rod bearing
journals 1R, 1L, 6R, and 6L must be in the up position so
the crankshaft will clear the sides of the block when it is
installed or damage will occur.
3.   Rotate crankshaft (14) until counterweights (15 and 16) are in the position shown.
14
15
16
Figure 6
NOTE
The crankshaft and connecting rod sling consists of a
cable and two adapters. The adapter with the pin hole
attaches to the crankshaft flywheel flange. The other
adapter attaches to the crankshaft torsional vibration
damper mounting flange.
4.   Install sling adapter (17) on flywheel flange pin (18) and secure to flange (19) with two flywheel adapter bolts (20).
Figure 71
17
18
19
20
20