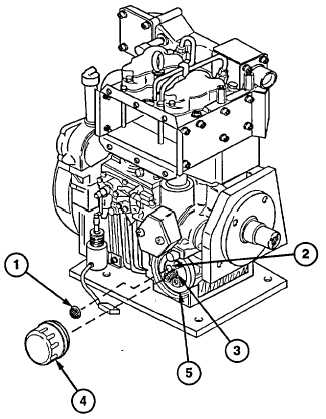 TM 9-2815-250-24&P
2-20.  FILTER ELEMENT REPLACEMENT (continued).
b.
CLEANING
WARNING
Compressed  air  used  for  cleaning  or  drying  purposes,  or  for  clearing  restrictions,
should  never  exceed  30  psi  (207  kPa).    Wear  protective  clothing  (goggles/shield,
gloves, etc.) and use caution to avoid injury to personnel.
1.
Clean strainer element (1) with compressed air.
WARNING
Drycleaning   solvent   P-D-680   is   toxic   and   flammable.      Always   wear   protective
goggles and gloves and use only in a well-ventilated area.  Avoid contact with skin,
eyes,  and  clothes,  and  DO  NOT  breathe  vapors.    DO  NOT  use  near  open  flame  or
excessive heat.
2.
Clean sealing surface (5) with drycleaning solvent and rag.
c.
INSTALLATION
1.
Install strainer element (1) on safety relief valve (2).
2.
Apply light coat of oil to sealing ring of new filter

element (4).
3.
Install filter element (4) on filter mount (3).
FOLLOW ON TASKS:
None
2-14