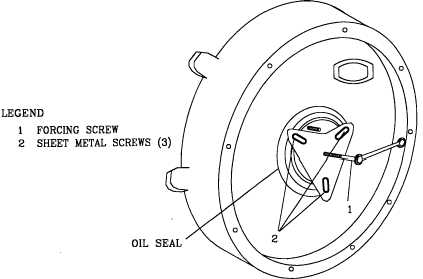 ARMY TM 9-2815-259-24
AIR FORCE TO 38G1-125-2
MARINE CORPS 09249A/09246A-24
4-84
d.     

Installation

.
_________
WARNING
Flywheel is heavy.  Provide adequate lifting device to support weight.  
Failure to comply could result in serious personal injury.
(1)     Pivot flywheel and install into flywheel housing through cutouts in top and bottom of flywheel
housing.  Place flywheel on studs and slide into position against crankshaft.
(2)     Apply Thread Lock (Appendix E) to threads of all flywheel mounting bolts (Figure 4-54).  
Install bolts finger tight.  Torque all bolts to 102 lb-ft (138 Nm).
4.8.2.   

REAR

CRANKSHAFT

OIL

SEAL/WEAR

SLEEVE

ASSEMBLY

.
NOTE
The following procedures require complete access to the engine.  If
necessary, remove engine from generator set, refer to TM 9-6115-671-14.  
Mount engine on repair stand (NSN 4910-01-016-1835 or equal) as outlined
in paragraph 4.10.
a.
Removal
.
(1)     Remove flywheel, refer to paragraph 4.8.1.b.
(2)     Adjust forcing screw (1, Figure 4-57) on Seal and Wear Sleeve Remover and position screw so
screw centers tool on crankshaft flange.
FIGURE 4-57.  REMOVAL OF REAR CRANKSHAFT OIL SEAL