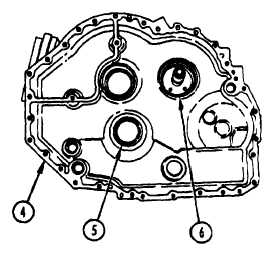 TM 9-2520-272-34&P
4-24.
ASSEMBLE LEFT END COVER ASSEMBLY
(SHEET 2 OF 5)
3
If race (6) was removed, freeze the race with dry
ice.
4
Using   arbor   press,   install   new   race   (6)   with
numbered side down.  Press race to shoulder.
5
If  bearing  (5)  was  removed,  install  new  bearing
(5)  in  end  cover  (4)  using  arbor  press.    Press
bearing to shoulder.
6
Apply lubricating oil to bearing (5) and race (6).
TASK 2.  INSTALL LH OUTPUT SHAFT AND SEAL
COMMON TOOLS:
Gun, heat
Hammer, hand, ball peen
Hammer, hand, plastic faced
Press, arbor, hand operated
Screwdriver, flat tip
SPECIAL TOOLS:
Installer, output and brake shaft seal (19207) 11650176
SUPPLIES:
Oil, lubricating (Item 10, Appendix C)
Petrolatum (Item 14, Appendix C)
Rag, wiping (Item 15, Appendix C)
Solvent, dry cleaning (Item 8, Appendix C)
Wooden Blocks, 2 x 4 inches x 16 inches long (2 required) (Item 2, Appendix C)
Packing, Preformed (73342) 23018234
Carbon Dioxide, Technical (Dry Ice) (Item 4, Appendix C)
WARNING
Dry cleaning solvent P-D-680 is toxic and flammable.  To avoid injury, wear protective goggles and gloves
and use in a well-ventilated area.  Avoid contact with skin, eyes, and clothes, and do not breathe vapors.
Do  not  use  near  open  fire  or  excessive  heat.    The  flash  point  for  Type  I  dry  cleaning  solvent  is  100°F
(38°C), and for Type II is 138°F (50°C).  If you become dizzy while 'using dry cleaning solvent, get fresh air
immediately and get medical aid.  If contact with eyes is
NOTE
Left end cover turned outside up on wooden blocks.
Install Output Shaft Seal
1
Using wiping rag and solvent, clean output shaft bore
(1) in left end cover (2).
Go to Sheet 3
4-156  Change 2
Para.  4-24, Task