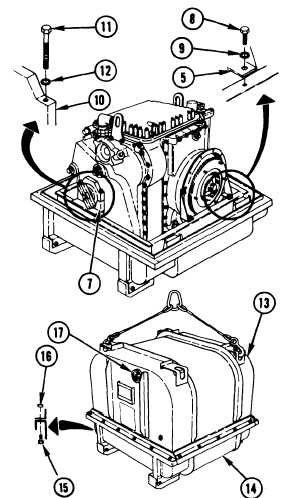 TM 9-2520-272-34&P
5.4.  INSTALL  TRANSMISSION  IN  CONTAINER
(SHEET 2 OF 2)
CAUTION
Ensure six support brackets securing the torque converter to the transmission are in-
stalled, or damage to the torque converter/transmission can occur during shipment.
4
5
6
7
8
9
10
11
12
13
14
Using sling and hoist, install transmission into con-
tainer. Place transmission outputs on pillows(7). Re-
move  sling.
Using  3/4  inch  socket,  install  two  bolts  (8)  and
washer (9) holding brackets (5).
Install caps (10). Using 3/4 inch socket, install four
bolts (11) and washers (12) holding caps (10).
Using torque wrench, tighten bolts (8) and (11) 58-66
Ib-ft  (79-89  N•m).
Attach sling to opposite and diagonal ends of con-
tainer top (13).
Install top (13) on container bottom (14). Line up bolt
holes of top and bottom with pry bar.
Using  3/4  inch  socket  and  wrench,  install  22  bolts
(15) and nuts (16). Remove sling.
Using  torque  wrench,  tighten  nuts  (16)  58-66  Ib-ft
(79-89 N•m).
Turning  counterclockwise,  remove  desiccant  access
cover  (17).
Place 42 units of dehydrating agent in desiccant ac-
cess  hole.
Install desiccant access cover (17), hand tight.
End of Task 1
Para. 5-4, Task 1
WARNING
•

Check slings and lifting devices for cuts, breaks, or wear before and during
hoisting. Slings and lifting devices can break and cause injury or death.
•

Transmission and container weight about 1500 Ibs (680 kg). To avoid injury
or death, keep out from under and clear of transmission at all times. Do not let
transmission swing freely during hoisting.
5-10 Change 1