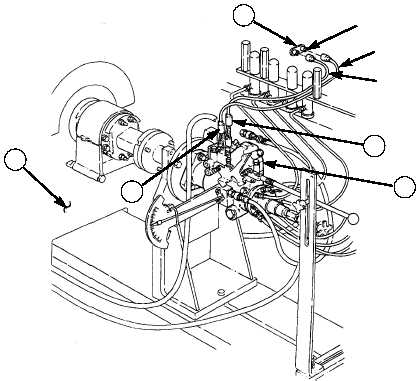 TM 9-2815-237-34
Change 1          2-140.21
2-35.3.   (6.2L or 6.5L)  FUEL INJECTION PUMPS (DB2829-4523, DB2829-4879, or
DB2831-5149) CALIBRATION USING FUEL INJECTION PUMP TEST STAND
(FTIS) MODEL A8022 (Cont'd)
23.
Reduce pump speed to 0 rpm and secure test stand. If pump met specifications, remove from test
stand and mount in holding fixture. If pump did not meet specifications, repair as necessary and
proceed to calibration instructions.
24.
Using air timing gauge, check pump timing. Set timing to -0.75 to +1.25 degree.
25.
Shut down test stand as follows:
(a)   Main drive pushbutton OFF.
(b)   Lube pushbutton OFF.
(c)   Calibration fluid pushbutton OFF.
(d)   DC selector OFF.
(e)   Master power switch OFF.
c.
Removal of Fuel Injection Pump from Test Stand
1.
Disconnect black test lead from DC black socket marked "P" on test stand (5), and remove alligator
clip end of black test lead from ground terminal (4) on fuel injection pump (3).
2.
Disconnect positive red test lead from DC power supply socket (1) marked (+) on test stand (5), and
remove alligator clip end of red test lead from electric shutoff solenoid terminal (2) on fuel injection
pump (3).
1
2
3
4
5
DC

BLACK SOCKET
BLACK TEST LEAD
POSITIVE RED TEST LEAD