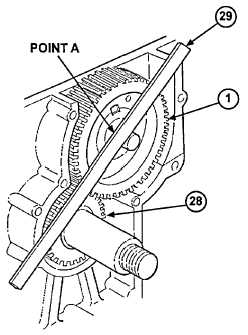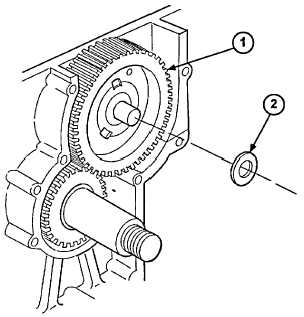 TM 9-2815-250-24&P
3-6.
CRANKCASE  REPAIR (continued).
c.
TEST
NOTE
·
This  test  procedure  determines  the  offset  between  the  camshaft  gear  and  the
crankshaft   gear   and   gives   instruction   about   how   to   correct   the   offset,   if
necessary.
·
Perform this test only if the camshaft, camshaft gear, crankshaft, or crankshaft
gear has been replaced.
1.
Place  steel  rule  (29)  across  crankshaft  gear  (28)  and  camshaft  gear  (1).    Using  feeler  gage,  measure  any
distance at point A between steel rule (29) and camshaft gear (1).  There should be 0.00-inch gap.
2.
On   camshaft   gear   (1),   install   shim(s)   (2)   of
appropriate    thickness    to    completely    fill    any
distance measured in step 1.
3-24