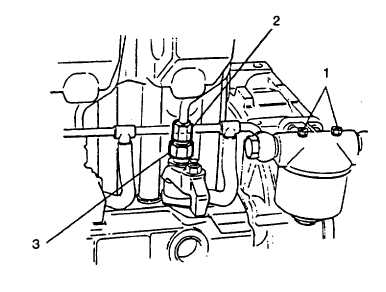 ARMY TM 92815-252-24
AIR FORCE TO 38G1-92-2
FIGURE 3-5.  Priming Fuel System
3-13.
FUEL
INJECTION
PUMP
.
3-13.1.   

Removal

.
Warning
Fuel is flammable.  Keep fuel away from heat and open flame.  Failure to follow this warning
could result In personal injury or death.
CAUTION
If more than one fuel pump is being removed extreme care must be taken to ensure that shim
pack Is replaced to Its original cylinder, otherwise when Installed, fuel pumps may not operate
properly.
CAUTION
To retain governor setting leave one fuel pump in position.
NOTE
Catch fuel in a suitable container.
a.
Loosen clamp (4, FIGURE 3-7) and disconnect fuel supply line (11) from fuel injector pump (5).
b.
Position engine speed control counterclockwise to stop position and hold in this position with a plastic tie wrap, refer
to FIGURE 3-6.
3-22