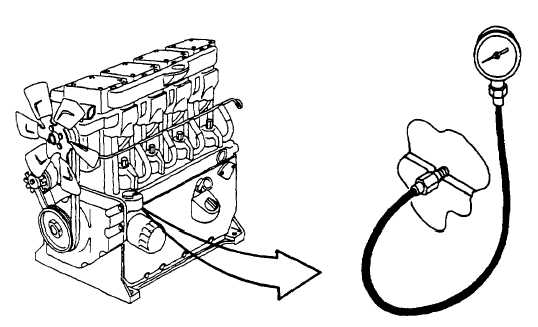 ARMY TM 9-2815-253-24
AIR FORCE TO 38G1-93-2
MARINE CORPS TM 2815-24/3
3-22.  

ENGINE

OIL

PRESSURE

TEST

.
a.
Tag and disconnect electrical leads to oil pressure sender, remove oil pressure sender, and install test pressure
gage, 0-150 psi (0-1034 kPa).  Refer to FIGURE 3-18.
b.
Start engine and check oil pressure.
c.
Remove oil pressure gage and install oil pressure sender.
d.
Install electrical connectors.  Remove tags.
e.
Engine oil pressure should be 36 psi (248 kPa) at 1800 rpm.
FIGURE 3-18.  Oil Pressure Test Setup
SECTION VIII.  GOVERNOR SYSTEM MAINTENANCE
3-23.  

GOVERNOR

SYSTEM

.
3-23.1.  

Removal

.
a.
Remove fuel injection pumps.  Refer to paragraph 3-13.1.
b.
Remove gear end cover.  Refer to paragraph 3-28.1.
c.
Unhook speeder spring (1, FIGURE 3-19) from retainer (2) and lever (29); remove spring.
d.
Unhook spring (3) from pivot pin (4).
e.
Remove  lower  pivot  pin  (4)  from  lower  pivot  support  (5)  and  governor  lever  (6).    Remove  pivot  retainer  (7).
Remove spring (3) from lower pivot support (5).
f.
Remove upper pivot pin (8) from upper pivot support (9) and governor lever (6).  Remove pivot retainer (10).
Use care to retain all end play shims (11) that are installed.
g.
Carefully remove governor lever assembly and fuel pump rack (6) from crankcase.
3-36