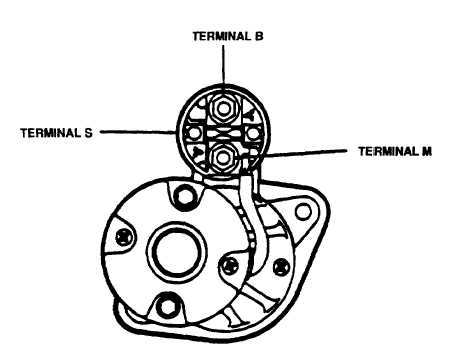 ARMY TM 9-2815-253-24
AIR FORCE TO 38G1-93-2
MARINE CORPS TM 2815-24/3
FIGURE 3-24.  Solenoid Terminals
3-24.4.  

Cleaning

and

Inspection

.
WARNING
Cleaning  solvent  is  flammable  and  toxic  to  eyes,  skin,  and  respiratory  tract.    Skin/eye  protection
required.  Avoid repeated/prolonged contact.  Good general ventilation Is normally adequate.
CAUTION
Do not clean overrunning clutch in solvent or other cleaning solution.  Washing clutch will remove
grease which may result In damage to the clutch.
a.
Wipe all metallic parts with a cleaning cloth (TX-1250) that has been slightly dampened with dry cleaning solvent
(P-D-680).
b.
Inspect all parts for damaged threads, cracks, distortion, or other visible damage.
WARNING
Compressed air used for cleaning can create airborne particles that may enter the eyes.   Pressure
will not exceed 30 psig (207 kPa).  Eye protection required.
c.
Inspect  armature  commutator.    If  commutator  is  dirty  or  discolored,  dean  with  abrasive  paper  (#400).    Use
compressed air to blow sand out from between commutator segments.
d.
Clean around  brushes and holders by wiping off all brush dust and dirt.  If brushes are shorter than 0.433 in.
(11.0 mm) they should be replaced.
e.
Check for free movement of brushes.  Brushes should move freely when placed in brush holders.  Replace brush
springs if weak or worn.
3-44