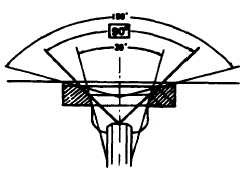 ARMY TM 9-2815-254-24
AIR FORCE TO 38G1-94-2
(2)   Use a valve cutter (15, 45, and 75 degree blades) to minimize scratches and other rough areas. This will
bring contact width back to standard value, refer to FIGURE 3-74.
(3)   Remove only scratches and rough areas. Do not cut away too much. Take care not to cut away unblem-
ished areas of valve seat surface.
NOTE
Use an adjustable valve cutter pilot. Do not allow it to wobble inside valve guide.
(4) Apply lapping compound (SSL1682) to valve seat insert surface.
(5)  Insert  valve  into  valve  guide.
(6) Turn valve while tapping it to fit valve seat insert.
(7) Check that valve contact width is correct.
(8) Check that valve seat insert surface is in contact with entire circumference of valve.
FlGURE   3-74.   Valve   Seat   Correction
b.
Replace damaged studs (22, FIGURE 3-60) freeze plugs (23, 24, 25, and 26), and duet plug (27).
3-122