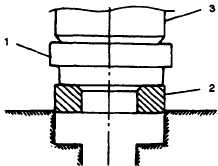 ARMY TM 9-2815-254-24
AIR FORCE TO 38G1-94-2
3-27.5.  

Assembly

.
a.
Install valve seat inserts (17 and 18, FIGURE 3-60) as follows:
(1)   Place  valve  seat  insert  in  position  and  carefully  place  attachment  (1,  FIGURE  3-75),  having  a  smaller  OD
than valve seat insert, on valve seat insert (2).
NOTE
Smooth side of attachment must contact insert.
Do not apply an excessive amount of pressure with press. Damage to
valve seat insert will result.
(2)   Use an arbor press (3) to gradually apply pressure to attachment and press valve seat insert into place.
NOTE
Valve  seat  insert  may  need  to  be  ground  to  obtain  proper  contact  width.
Refer to paragraph 3-27.4.
FIGURE   3-75.   Valve   Seat   Insert   Installation
3-123