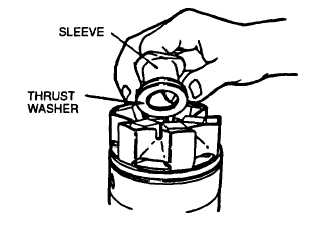 ARMY TM 9-2815-255-24
AIR FORCE TO 38G1-95-2
MARINE CORPS TM 2815-24/4
FIGURE 3-77.  Installing Thrust Washer and Sleeve
al.
Apply a light film of clean general purpose grease (630AA) to preformed packing (21, FIGURE 3-52) and install
in groove in hydraulic head.
am.
Apply  a  light  film  of  general  purpose  grease  (630AA)  around  inside  edge  of  housing  and  tilt  housing  slightly
downward at rear to aid in assembly.
an.
Rotate cam ring (24) so threaded hole is in line with metering valve bore.  This ensures proper position of cam.
CAUTION
Exercise  care  not  to  Insert  head  assembly  too  far  into  housing.    Pushing  head  in  too  far  will
damage seal on hydraulic head and result in leakage.  Ensure timing mark on drive corresponds
with timing mark on rotor.
ao.
Grasp  hydraulic  head  firmly  in  both  hands  and  insert  it  into  housing  bore  with  a  slight  rotary  motion.    Do  not
force.  If assembly should jam during insertion, withdraw and start over, refer to FIGURE 3-78.
FIGURE 3-78.  Inserting Hydraulic Head (Typical)
ap.
Rotate head assembly until head locking bolt holes line up with their corresponding holes in housing.  Insert two
locking bolts (51, FIGURE 3-45) finger tight.
3-107