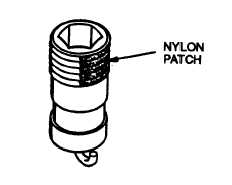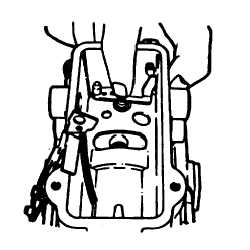 ARMY TM 9-2815-255-24
AIR FORCE TO 38G1-95-2
MARINE CORPS TM 2815-24/4
aq.
To prevent governor weights from becoming dislodged when pump is fully assembled, throttle should be wired in
wide open throttle (WOT) position.
NOTE
Ensure nylon patch on vent wire screw assembly (50) is intact.
ar.
Install vent wire screw assembly (50), refer to FIGURE 3-79.
FIGURE 3-79.  Vent Wire Screw Assembly
CAUTION
To prevent damage to special surface treatment, never use an abrasive to clean metering valve
(45).
as.
Install spring (49), shim (48), and metering valve/arm assembly into bore in housing.  Depress and rotate valve
several  times  to  ensure  freedom  of  movement.    If  valve  sticks,  dean  off  with  clean  calibrating  oil,  refer  to
FIGURE 3-80.
FIGURE 3-80.  Installing Metering Valve
at.
Pull  back  governor  linkage  hook  (46,  FIGURE  3-45),  stretching  spring  (47)  just  enough  to  assemble  hook
correctly to fork on governor arm (44).  Position opposite end of hook (46) over pin on arm of metering valve
assembly (45), refer to FIGURE 3-81.  Check all governor parts for freedom of movement.
3-108