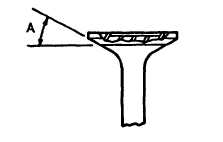 ARMY TM 9-2815-255-24
AIR FORCE TO 38G1-95-2
MARINE CORPS TM 2815-24/4
CAUTION
Any carbon left on the stem will affect alignment In valve refacer if valve needs to be refaced.  Do
not use a wire wheel on plated portion of valve stem.  Polish the valve stems with steel wool or
crocus cloth to remove any scratch marks left by wire brush.
(4)
Inspect valve stem tip for excess wear from rocker arm contact.
NOTE
Valve stem tips are specially hardened, therefore, wear caps are not required.
(5)
Inspect valve retainer lock groove on valve stem for damage.  Also, inspect stems for signs of scuffing,
which may indicate insufficient valve guide-to-valve stem clearance.  Replace if defects are evident.
(6)
Measure valve stem OD.  Record measurements and compare with valve guide ID found in step j.
(7)
Intake valve stem OD should be 0.3096 to 0.3104 inch (7.864 to 7.884 mm) and exhaust valve stem OD
should be 0.3090 to 0.3100 inch (7.848 to 7.874 mm).
(8)
Use  valve  inspection  center  (D-05058ST)  to  determine  if  valves  are  out  of  round,   bent,   or   warped.
Maximum permissible runout of valve face is 0.0015 inch (0.038 mm)
e.
Grind valves as follows:
CAUTION
When valve faces are ground, do not nick valve head-to-stem radius with facing stone.  A nick
could cause valve to break.  Break all sharp edges after grinding.
Valves determined to be serviceable should be refaced to a face angle of 29.00 to 29.5 degrees, refer to FIGURE 3-1 00.
FIGURE 3-100.  Valve Face Angle
f.
Inspect and clean cylinder head as follows:
WARNING
Caustic solutions are highly toxic to the skin, eyes, and respiratory tract.  Avoid all contact Skin
and eye protection and vapor control are required.
3-141