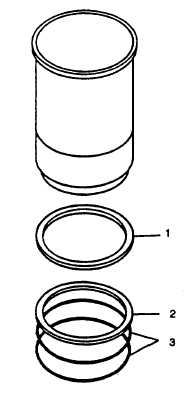 ARMY TM 9-2815-255-24
AIR FORCE TO 38G1-95-2
MARINE CORPS TM 2815-24/4
(6)
If  liner  height  is  above  specification,  check  cylinder  block  for  burrs  on  liner  support  flange  or  incorrect
counterbore depth.
CAUTION
Only one shim (1, FIGURE 3-142) Is allowed per cylinder.  If liner requires more than one shim,
install either a new liner or engine block,
(7)
If liner height is below specification, install one liner shim on bottom of liner flange.  Two sizes of shims are
available:
(a)
0.002 inch (0.05 mm) - Part No.  CD15466.
(b)
0.004 inch (0.10 mm) - Part No.  R65833.
3-48.  

REPAIR

.
3-48.1.  

Cylinder

Liners

.
a.
Deglaze cylinder liners as follows:
(1)
Fabricate  cylinder  liner  holding  fixture  (FIGURE  D-3,  Appendix  D).  (2)  Secure  cylinder  liner  in  holding
fixture.
NOTE
Use honing oil (MB-30) along with deglazer when deglazing liners.
FIGURE 3-142.  Location of Cylinder Liner Shim
3-202