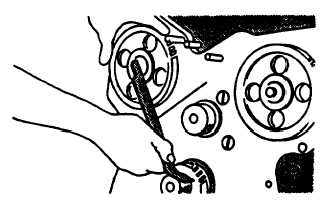 ARMY TM 9-2815-256-24
AIR FORCE TO 38G1-96-2
MARINE CORPS TM 2815-24/5
NOTE
Use the timing mark corresponding to the number of cylinders.
(3)
Install upper idler gear (3, FIGURE 3-134) on its shaft without turning camshaft gear (5) or injection pump
gear.
(4)
Install washer (2) so hole and spring pin align.  Install capscrew (1).  Tighten capscrew (1) to 65 ft-lbs (90
Nm).
FIGURE 3-133.  Aligning Timing Mark and Camshaft Gear
(5)
Recheck gear timing to make sure it is still correct.
h.
Install timing gear cover, refer to paragraph 3-39.3.
i.
Install rocker arm assembly and pushrods, refer to paragraph 3-33.5.
j.
Install fuel supply pump, paragraph 3-25.3.
3-173