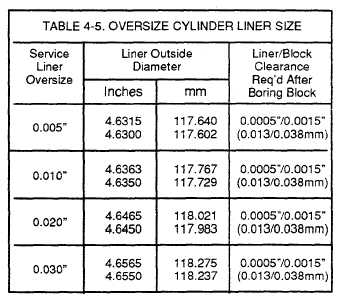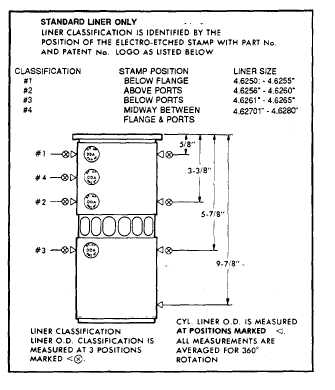 TABLE 4-5.
TM    9-2815-202-34
NOTE
A new standard size cylinder liner is
also classified as #1 (stamped
below  flange),  #2  (stamped  above
ports), #3 (stamped below ports), or
#4  (stamped  between  ports  and
flange).
(1) Before installing liner in used cylinder
(2) After honing block bore, check bore
measurements to determine if standard
n
liner (Classification #1, #2, #3 or #4) can be
used. A push fit between liner and block is
desirable. If a push fit cannot be obtained,
block must be bored to receive an oversize
liner.
block, always lightly hone block bore (Para 4-36).
C h a n g e    1  4-149