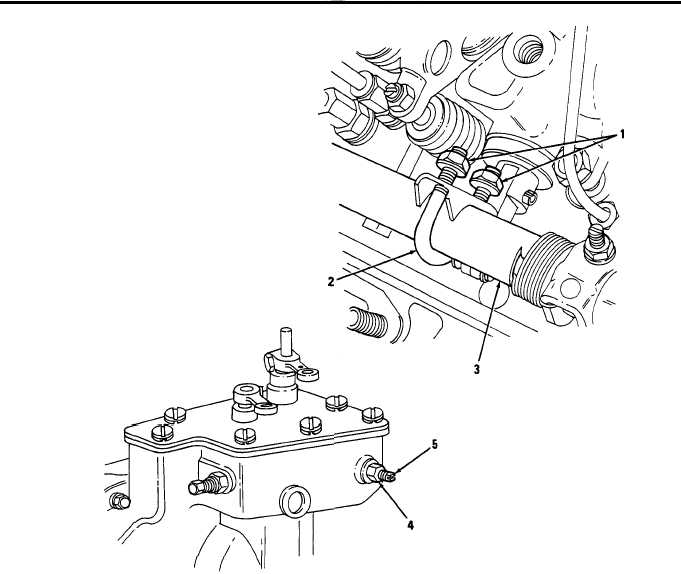 TM9-2815-202-34
8-6.  GOVERNOR   GAP   ADJUSTMENT
This  task  covers:  Adjustment
INITIAL   SETUP
MODELS
MANDATORY
REPLACEMENTS
PARTS
n

All
1  Gasket  (App  F,ltem  82)
2 Gaskets (App F, Item 78)
2 Lockwashers (App F,ltem 92)
TOOLS  AND  SPECIAL  TOOLS
EQUIPMENT   CONDITION
General mechanics tool kit (App B, Item 96)
Turbocharger  inlet  shield  (App  B,  Item  81)
4-11 Rocker arm covers removed
Adjustment
a.
n

b.
governor  cover  lever.
For  models  7083-7395  and  7083-7396,
loosen two nuts (1) on throttle delay U-bolt
(2) on right bank injector control tube (3).
Injector control tube must move freely in U-
bolt.
For models 7083-7391 ,7083-7395, and
.
NOTE
Before proceeding with governor
adjustments,  disconnect  cables  from
7083-7396, loosen and hold starting aid nut
(4). Back out starting aid screw (5) to make
it  ineffective.
8 - 1 0  C h a n g e     1