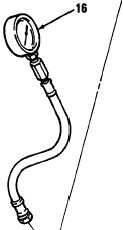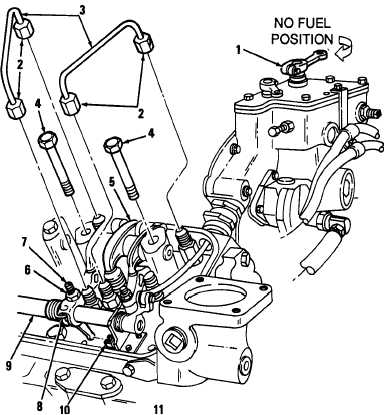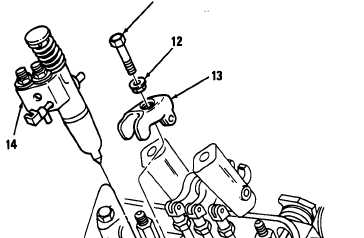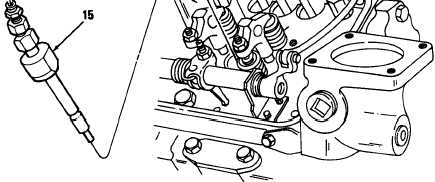 TM9-2815-202-34
NOTE
c.
d,
e.
f,
Bar engine over to bring upper ends
of push rods of injector and valve
rocker  arms  in  line  horizontally.
Remove two rocker shaft bracket bolts (4)
and swing rocker arms (5) away from
injector  and  valves.
Loosen  locknut  (6)  and  back  out  adjusting
screw (7). Slide injector control lever (8) on
injector  control  tube  (9)  away  from  injector
control rack (10),
Remove bolt (1 1), convex washer (12), and
clamp  (13)  securing  injector  (14).  Remove
injector.
CAUTION
Injector clamp must not interfere
with  follower  spring  or  exhaust  valve
springs when installed. Damage
could  occur  to  engine  valve  or
injector  clamp.
Install  cylinder  adapter  (15)  in  injector  tube.
Secure  with  clamp  (13),  convex  washer
(12), and bolt (11 ). Torque bolt to 20-25  

Ib-ft
(27-34 N-m). Attach cylinder tester (16) to
adapter.
CAUTION
Exhaust valve bridges must rest on
ends  of  exhaust  valves  when
tightening rocker arm shaft bolts or
damage  to  exhaust  valves  will
result.
n
v
8-35