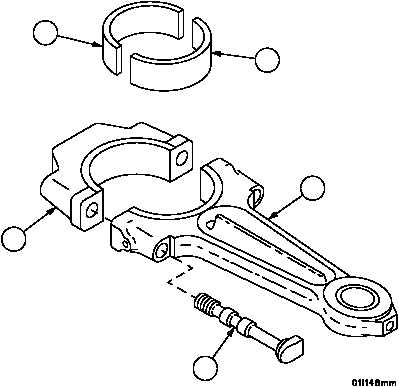 TM 9--2815--247--34
0070 00--11
CONNECTING ROD ASSEMBLY AND ASSOCIATED PARTS REPAIR --
CONTINUED
0070 00
Installation
CAUTION
Connecting rod bore center dimension must be main-
tained. Failure to comply will result in premature failure.
NOTE
Inspect crankshaft journals to make sure they are within
limits. Refer to WP 0064 00.
1.   Position connecting rod bearing halves (4 and 5) in their respective rod (3) and cap (2).
2.   Install two connecting rod bolts (13) in each connecting rod (3) making certain each bolt (13) is properly seated in
the recess provided.
Figure 8
5
4
2
3
13