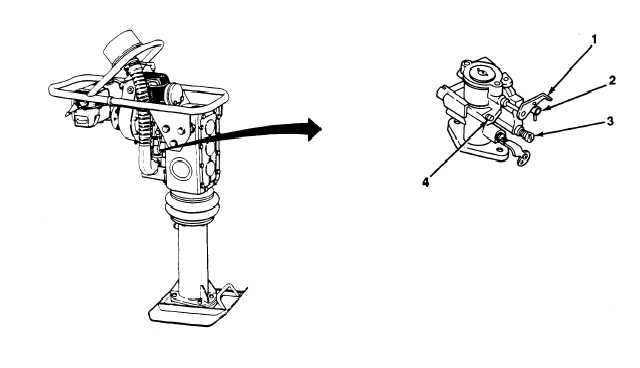 TM  5-3895-360-13
7-2.   CARBURETOR   ADJUSTMENT   (Con't).
CAUTION
DO NOT set carburetor any leaner than neces-
sary. Failure to follow this caution may cause
piston to seize.
e. Turn high speed adjustment screw (2) clockwise until
engine runs smoothly at high speed.
f.  Turn  idle  stop  adjustment  screw  (4)
pendable idle.
to  obtain  de-
7-3.   AIR   CLEANER   MAINTENANCE
(VR11C).
TOOLS:
General mechanics. tool kit . . . . . . . SC 5180-90-N26
WARNING
If NBC exposure is suspected, all engine air
cleaner air filter media should be handled by
personnel wearing protective equipment. Con-
sult your NBC Officer or NBC NCO for appro-
priate  handling  or  disposal  procedures.
AIR  CLEANER  FILTER  REPLACEMENT
NOTE
Refer to Figure 7-3, Air Cleaner Filter Replace-
ment (VR711C),

for steps a through c.
a. Remove wingnut (1), access cover (2), and filter (3)
from handle (4). Discard filter.
Figure  7-2.  Carburetor  Adjustment.
7-3